Pm Trac generation 38 – multipurpose tractor
Pm Trac generation 38 – multipurpose tractor
At the ZLF 2004 in Munich, Pfanzelt set standards with the presentation of the Pm Trac multipurpose tractor. The development trend – using a tractor chassis from the large-scale production to the completely own tractor chassis – makes the Pm Trac unique. Among other things, the new, continuously variable and power-split transmission
variaDRIVE – a proprietary development for Pfanzelt forestry machines – offers new possibilities and contributes its share to the motto of the new Pm Trac generation: Versatility is its strength – working and operating comfort its virtue.
The Pm Trac multipurpose tractor of the new Generation 38 is optimised for combined use in agriculture, forestry, and landscaping thanks to its unique vehicle concept.
The core of the Pm Trac machine concept includes the centrally located large tractor cab and the central superstructure space above the rear axle. Fast and flexible adaptation to different working conditions is based on the Pfanzelt System Attachment (PSA).
Engine with 205, 253 or 292 hp
variaDRIVE continuously variable split transmission, up to 50 km/h (max. speed with reduced engine speed)
Hydraulic system with 160 l/min at 210 bar (optional 200 l/min and additional power pack directly on the gearbox PTO)
New software and touchscreen operating terminals for machine control
Forwarding of long and short timber
For long and short timber forwarding, the rear mounting space, which is located directly above the rear axle, is used for mounting the cable winch and forest crane. Depending on the area of application, a rear crane (low column) or a loading crane (high column) can be set up with a favourable centre of gravity.
With Pfanzelt's system mount, the different types of cranes and the forestry winches can quickly and easily be assembled and disassembled.
Versatility in forestry
In forestry, the Pm Trac is not only convincing in classic forwarding use. In addition to the use with a forestry mulcher for area cultivation, the Pm Trac can also show its full potential with an energy woodcutting gripper. When used with a felling unit or a mulching head on the forestry crane which requires a higher hydraulic power, a powerful auxiliary hydraulic system can be installed.
The Pm Trac's performance spectrum also includes the use of a shredder. In addition to shredders with their own engine, shredders driven by the tractor's PTO shaft can also be combined. The rear PTO of the Pm Trac is still accessible even with the crane and winch mounted.
Municipality and landscaping
Thanks to the rear attachment space with rear power lift, other implements such as mower spreaders can also be driven in combination with an additional edge mower or area mulcher.
The Pfanzelt System mount serves as a support frame for the Pm Trac. The extreme forces involved when using heavy-duty forwarding cranes or mower implements are absorbed by the supporting frame and dissipated in a controlled way.
The Pm Trac is also the ideal helper in landscape maintenance.
For municipal use, a municipal coupling plate can be installed instead of a front hydraulic system.
As soon as the forestry implements have been removed, the tractor can be used for agricultural purposes without any additional conversion measures, as neither the rear power lift nor any other relevant components are modified for forestry operation. In addition to the rear and front attachment areas, front loader consoles are also part of the multiurpose tractor's concept.
From the outside, the Pm Trac hardly looks any different. However, much has been further developed on the chassis, and new components are used. The chassis is built over a frame in which the individual units are installed. The biggest change to the chassis concerns the transaxle. The transmission and rear axle unit was previously purchased from ZF. With the new series, Pfanzelt produce the unit themselves – the variaDRIVE transmission as well as a new, planetary-driven rear axle from Pfanzelt are used. The Pm Trac Generation 38 is now based on an almost 100% Pfanzelt tractor chassis. This enables the complete adaptation of all components to heavy-duty use in forestry and as a multipurpose tractor. The days of using components from agricultural tractors are over. The Pm Trac plays in a new league.
The comfortable and powerful handling corresponds to that of familiar power-split transmissions. However, additional comfort is offered when changing the direction of travel. This operates more gently and quickly. In this way, it is comparable to that of a hydrostat. The new transmission is also efficient and performance-oriented thanks to the three travel ranges in forward drive and two travel ranges in reverse drive.
Top speed 40/50 km/h
Motor gear management
No switching of clutches in shunting mode up to approx. ±7 km/h
Reduction of the engine speed when the final speed is reached
Individual preselection of maximum speed for special applications (for example, forestry milling)
4 Implement and mounting compartments
In addition to the rear mounting compartment which is positioned with a favourable centre of gravity above the rear axle, the Pm Trac has a three-point implement compartment on the front and rear. Optional front loader consoles are available.
Rear compartment
Rear three-point linkage
Front three-point linkage
Front loader console
Pfanzelt system mount (PSA)
Due to the changed cabin position towards the middle of the vehicle, additional equipment can be placed in the rear body space using the Pfanzelt system mount (PSA). It is located directly above the rear axle and therefore optimally designed for the load and the vehicle's centre of gravity.
A special quick-change system allows the implements to be changed within a very short time without tools. The assembly or disassembly of the crane and winch takes less than 20 minutes.
A roadworthy transmission technology and a standard road approval for 50 km/h allow the operator to approach or change locations quickly and without additional transport technology. The vehicle can also be driven on public roads in combination with a forwarding trailer or a trailer chopper.
The lighting system and fenders required for road travel can easily and quickly be converted for forestry operations. The four fenders, which are mounted as a pluggable system, are taken off the vehicle. The side indicators and front lights are concealed behind protective devices.
The Pm Trac's hydraulic system now has a standard capacity of 160 l/min at 210 bar, which can optionally be increased to 200 l/min. In addition, the new variaDRIVE transmission enables an additional power pack to drive high-performance implements via a direct power take-off. Depending on the power requirement, the power pack can deliver more than 100 kW drive power. For high efficiency and higher hydraulic pressures, additional 180 l/min at 350 bar are possible in the closed system.
The pneumatically suspended, large-volume cab which was developed by Pfanzelt enables quiet and comfortable working with perfect all-round visibility. A new noise insulation concept allows quiet and vibration-damped operation during use, especially at high engine speeds.
More than 7 m2 of glass surface provide optimal view of the working environment and increase work safety
The steering column can be easily folded away when working in the forest
Relaxed, ergonomic seat position on the air-suspended operator's platform which can be electrically rotated by 340°
Always within reach, all the controls, the pedals, and the touchscreen terminal rotate together with the seat
Unique in the forestry industry and essential for municipal use is the comfortable passenger seat.
The intelligent machine control system, which is operated via a touchscreen monitor on the seat, allows presettings to be stored for four operators. A Pfanzelt default user, which cannot be modified, is also stored.
An additional operating terminal for road travel is located next to the steering wheel. All important parameters are displayed there in the driver's best possible view.
The new command centre on the rotating operator station
Driver management for four drivers incl. individual assignment of joysticks and control levers
Presets for hydraulic control units, crane functions, and auxiliary pumps
PTO management
Engine speed management
Adjustment of the driving characteristics
Excerpt from the extensive menu navigation
Adapted to the driver; he can individually preselect the assignment of all joystick functions and operating levers for hydraulic control units at the operator station, and save them in the driver management system.
The hydraulic management allows presetting of all crane functions (including flow regulation, adjustment of characteristics of individual hydraulic functions and ramps).
In addition to the preselection of speed and start-up characteristic, an automatic switch-on and switch-off can also be preset in the PTO management.
The crane programme by Pfanzelt is one of the most extensive on the market. For the Pm Trac, modern and powerful professional cranes are available in different lifting classes from 5 to 7 mt and reaches up to 10 m. In addition to the technical specifications, the cranes also differ in their design.
Forwarding grapples and cranes
Pfanzelt has designed special cranes to be mounted on the Pm Trac. The two available series differ in terms of grapples and cranes. The former have a low crane column and are therefore specially designed for grinding long timber. Forwarding cranes, unlike forwarding grapples, have a high crane column and are optimised both for grinding long timber and loading a forwarding trailer with short timber.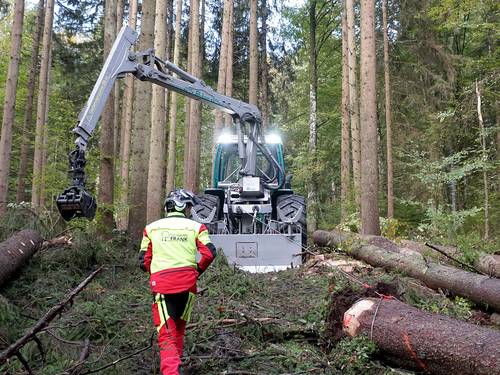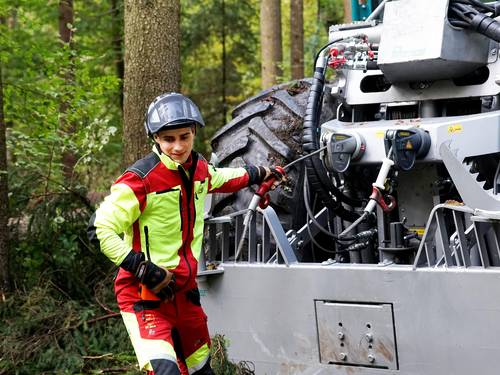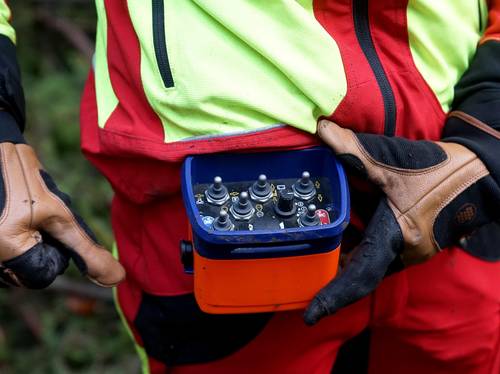 On the Pm Trac, Pfanzelt's winch units are mounted under the forest crane above the rear axle.
Double drum units with a pulling force of 6 or 8 t are available. Depending on the rope diameter and drum width, the maximum rope capacity is 150 metres. Pfanzelt uses multi-disc sinter plate packs for the exact control of braking and clutch operations. In order to avoid malfunctions of the hydraulic control, Pfanzelt's geared cable winch operates with a separate oil circuit with filter unit, which is fed by a hydraulic pump. The cable winch is operated either via an electric pushbutton control or a forestry radio system.
Remote propel
In order to increase ergonomics during winch operation, the Pm Trac can also be equipped with an optional remote propel. When required, it can be activated simply by pressing a button on the display of the driver's station.
Forwarding trailer for the Pm Trac
For combination with a Pm Trac, various Pfanzelt forwarding trailers are available for forwarding short timber. Requirements for modern forwarding trailers vary greatly depending on their application.
Pfanzelt's well thought-out service concept begins with easy access for cleaning the radiators and engine compartment. For optimum accessibility to the rest of the aggregate compartment, the vehicle's cab can be tilted open. Dismantling the loading crane and winch releases the last part of the chassis. The base plate of the tractor can also be opened by a cable winch.
Pm Trac 3820
Pm Trac 3825
Pm Trac 3830
Customise now
Configurator
Configurator
Configurator
Engine
In-line six-cylinder turbo diesel engine with electronic control, common rail, EU V exhaust stage, Cleanfix MC switchover fan
Output (at 2,100 rpm as per ISO14396)
151 kW/ 205 hp
186 kW/ 253 hp
215 KW/ 292 hp
Cylinder capacity
7,4 ltr.
7,4 ltr.
7,4 ltr.
Transmission
variaDRIVE continuously variable 0-50 km/h

Continuously variable, power-split transmission with cruise control function, engine transmission management, three forward travel ranges, two reverse travel ranges, max. travel speed at lowered engine speed (approx. 1,800 rpm), active standstill control

Front axle
Hydro-pneumatically suspended thrust tube axle with automatic level control, electro-hydraulically switchable differential lock, central front axle drive, integrated constant-velocity steering cylinder, axle automatically locked when crane is stationary
All-wheel drive
All-wheel & differential lock management
Steering
Hydrostatic steering, steering column can be folded away when working, joystick steering
Brakes
Two-circuit air brake

Rear axle: Dry drum brake, pneumatically-actuated parking brake via Tristop cylinder with integrated trailer test position, single-wheel brake

Front axle: Dry disc brake incl. integrated Opti-Stop front axle brake

PTO
Switchable PTO 540E/ 750/ 1000 rpm (optional 1000E/1000/1450 rpm)

PTO connection 1 3/8″ pluggable PTO shaft, electro-hydraulic switchable wet multi-plate clutch, PTO automatic, PTO management, adjustable start-up mode, automatic switch-off (speed-dependent)

Hydraulics
Hydraulic system with axial piston pump, controlled load sensing, hydraulic oil cooler

Flow rate/operating pressure: 160 l/min / 210 bar (option: 200 l/min)

Electronics
CAN BUS system: Central control and monitoring of engine, gear unit, and auxiliary control units at the operator station
Integrated functions for crane settings, all-wheel drive, differential, steering
Four different driver settings can be stored, additional Pfanzelt default setting
Front power lift
max. lifting force 35 kN, double-action
Rear power lift
Max. lifting force 82 kN,
external lifting cylinder with float position, switchable to double-acting for lifting and pushing
Front loader
Flange points on the integrated support frame for mounting front loader consoles
Rear compartment
Pfanzelt system pick-up (PSA), vehicle support frame for stabilisation, block design
Cab
Large volume, air-suspended cabin with all-round visibility (over 7 m2 window area), two large roof windows, safety cabin according to ISO standards (ROPS)
Operator stand
Air-suspended swivel seat with seat heating, rotation by electric motor by 340°
Ventilation
Powerful heater and air-conditioning system with three-speed blower, incl. automatic climate control system
Additional standard equipment
Removable fenders, storage box, pneumatically controlled step, fire extinguisher
Road approval
COC document, machine definition (agricultural tractor/implement carrier)
Dead weight / permitted max. weight
Depending on equipment/14 t
Depending on equipment/14 t
Depending on equipment/14 t
You can find the extensive range of accessories in our forestry machine configurator.