TRACTOR MOUNTED WOOD CHIPPER: VEGETOR 200T
ADAPTABLE ONTO TRACTOR FROM 75 UP TO 150 HP, THIS "5 IN 1" WOOD CHIPPER GRINDS ALL KINDS OF WOOD, FOR ALL KINDS OF PRODUCTION.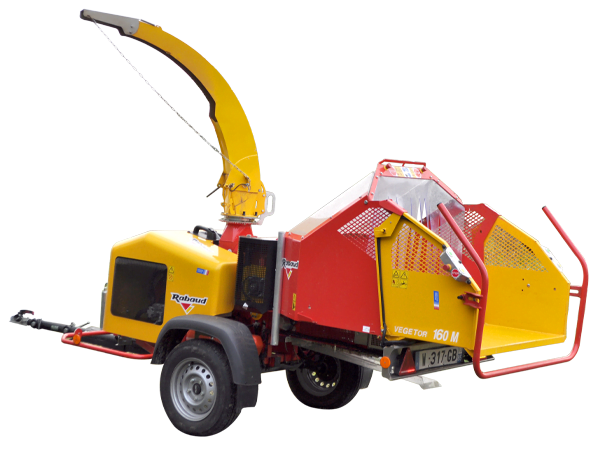 Wood chipper VEGETOR 200T maximum wood diameter: 200 mm.
Adaptation on tractor 3-point linkage from 75 HP up to 150 HP (Shaft with slipping clutch for PTO 1000 rpm – for tractors 150 HP max.).
Rotor «5 in 1»:
– 3 standard modes: 2 knives or 2 rows of hammers or knives + hammers.
– 2 optional modes: 1 knife or 4 rows hammers.
NOSTRESS regulation  with 3 positions: ECO / MEDIUM / MAX.
Hopper can be folded easily thanks to the mechanical winch, for a compact machine for transportation.
Swiveling blower on 360° with adjustable cap (by chain).
Adjustable speed of the feeding rollers for increasing or reducing the size of shavings.
Extra-wide feeding hopper (XL) with safety bar fitted on top for avoiding the inopportune processing release caused by the wood.
Angle transmission housing, no maintenance needed.
Model

VEGETOR 200 T

Opening (W x H)

280 x 210 mm

Maximum wood diameter

200 mm

Transport dimensions (L x W x H)

2,40 x 1,60 x 2,14 m

Work dimensions (L x W x H)

2,77 x 1,86 x 3,12 m

Feeding roller with independent drive

1 horizontal, 600 mm width

Hydraulic adjusment of the roller speed

Yes with a knob

Rotor diameter

"5in1" rotor

Rotor "5in1" specifications (standard)

2 knives + 2 rows of 11 hammers

Rotor rotation speed

From 1600 rpm up to 2200 rpm in accordance with the NOSTRESS adjustment

NOSTRESS

Yes

Blower swivels

at 360° by notched handle

Height of the hopper from the floor

700 mm

Hopper dimension (L x W x H)

1,72 x 1,03 x 0,81m

Calibration grid

Option

Tool chest

Yes

Weight

880 à 950 kg

Drive

PTO 1000 rpm
with hydraulic pump 20 L/mn.

Recommended tractor power

From 75 HP up to 150 HP

Coupling

cat. I & II

Hourly output

5000 kg