TRACTOR MOUNTED WOOD CHIPPER: VEGETOR 160T
ADAPTABLE ONTO TRACTOR FROM 35 HP UP TO 95 HP, FOR ALL KINDS OF PRODUCTION.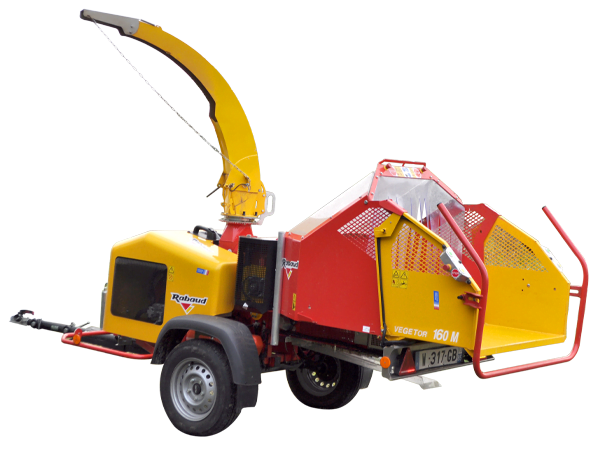 Wood chipper VEGETOR 160T maximum wood diameter: 160 mm.
Adaptation on tractor 3-point linkage from 35 HP up to 95 HP.
Rotor «5 in 1»:
– 3 standards modes: 2 knives or 2 rows of hammers or knives + hammers.
– 2 optional modes: 1 knife or 4 rows hammers.
NOSTRESS regulation with 3 positions: ECO / MEDIUM / MAX.
Hopper can be folded easily thanks to the mechanical winch, for a compact machine for transportation.
Swiveling blower on 360° with adjustable cap (by chain).
Adjustable speed of the feeding rollers for increasing or reducing the size of shavings.
Extra-wide feeding hopper (XL) with safety bar fitted on top for avoiding the inopportune processing release caused by the wood.
Angle transmission housing, no maintenance needed.
Model

XYLOCHIP 150 T

Opening (W x H)

210 x 165 mm

Maximum wood diameter

160 mm

Transport dimensions (L x W x H)

2,07 x 1,47 x 1,83 m

Work dimensions (L x W x H)

2,44 x 1,95 x 2,40 m

Feeding roller with independent drive

1 horizontal, 600 mm width with converging whorl and teeth

Hydraulic adjusment of the roller speed

Yes with a knob

Rotor type

"5in1" rotor

Rotor "5 in 1" specifications (standard)

2 knives + 2 rows of 8 hammers

Rotor rotation speed

From 2300 rpm up to 2 600 rpm in accordance with the NOSTRESS adjustment

NOSTRESS

Yes

Foldaway hopper

Yes

Blower swivels

at 360° by notched handle

Weight

From 505 up to 570 Kg

Drive

PTO 540 rpm or 1000 rpm
(option: 12 L/mn. hydraulic unit )

Recommended tractor power

From 35 HP up to 95 HP

Coupling

cat. I & II

Hourly output

3000 – 4000 kg