SplitMaster 40 Crane – Wood splitter
The professional horizontal splitter with timber loading crane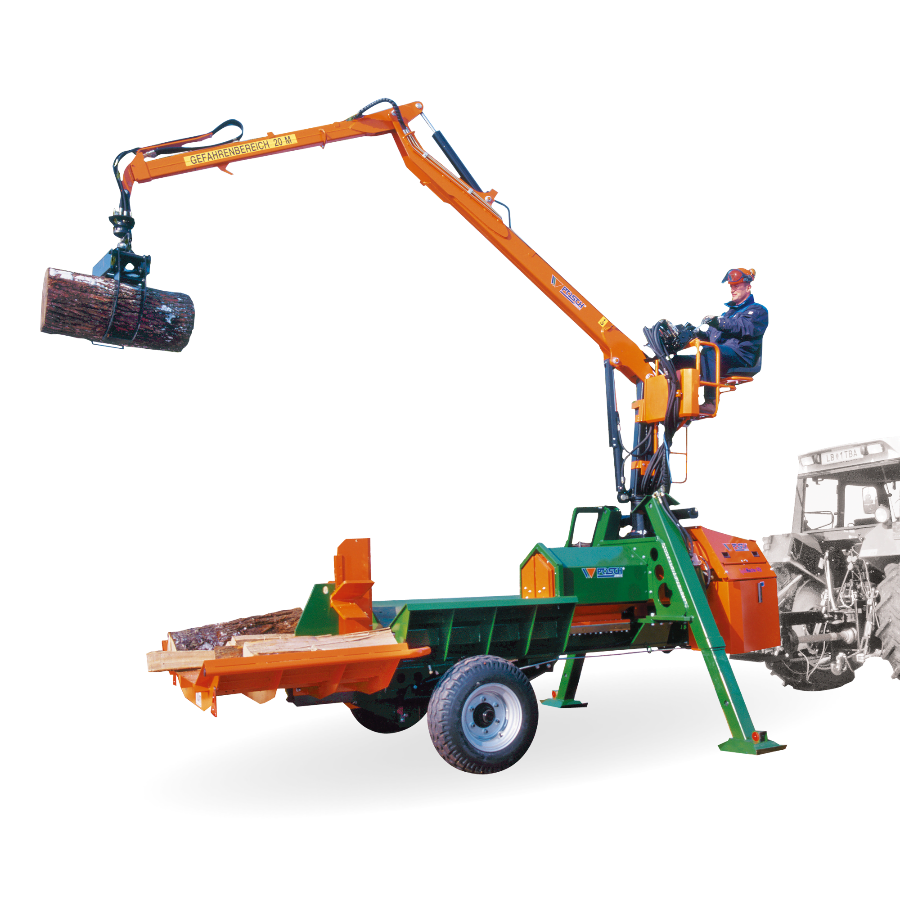 The professional horizontal wood splitter for heavy-duty use. Charging by means of timber charging crane brings heaviest logs into position.
Autospeed functionality
Max. billet length 125cm (optional 250cm), cylinder stroke 130cm (optional 267cm)
Up to 12 billets per work cycle
Splitting knife for 4 parts for log Ø 0-50cm as standard
Hydraulic splitting knife adjustment
High-pressure hydraulic system with axial piston pump
Interference-free radio control
Longitudinal chassis: Tractor chassis 10km/h, parking brake, drawbar eyelet height adjustable
Optional timber loading crane: High-seat control, range 6.7 m with telescope, max. hoisting capacity 414 kg, swivel angle 380°, gripper opening 1.2 m, gripper weight 86 kg,crane weight 1,029 kg. The hydraulic drive for the crane is integrated in the machine.
Tractor drive: Universal joint shaft required, three-point linkage cat. I + II
Wood splitter – special equipment
Make your work routine easier with a series of useful additional pieces of equipment.
spezialprogramm
Article no.
Description
list price
excl. VAT
T26

(SO1034)

Surcharge for stroke 2.65 m for max. billet length 2.5 m with mechanical shut-off feature 1.30 m, incl. tractor chassis max. 10 km/h without brakes, parking brake. Transport on public roads not permitted, only for use on private premises (e.g. lumberyards). No lights
6.000,00
SD26

(SO1035)

Surcharge for stroke 2.65 m for max. timber length 2.5m with mechanical shut-off feature at 1.3m, incl. road chassis 80 km/h, ABS pneumatic brake, lights, with mechanical shut-off feature 1.30 m
20.200,00
RCF

(SO1036)

Surcharge for remote radio control with foot pedal (for M6365TRC and M6385TRC)

Machines with these control options may only be charged with a crane. The control must be installed by the customer at the charging site (crane, tractor).

2.200,00
L

(SO1037)

Light bar (for machines with LT tractor chassis)
590,00
A143
Individual permit / Individual type approval (EBE), only possible for Austria and Germany!
990,00
Wood splitter – accessory equipment
Handy accessory equipment for more power and convenience for wood processing.
ersatzteile
Article no.
Description
list price
excl. VAT
F0001824
2-way splitting knife for SplitMaster 40 Crane
500,00
F0002505

4-way splitting knife for SplitMaster 40 Crane (Ø 15-50 cm), standard

* centrally splitting log diameter

770,00
F0001815

6-way splitting knife for SplitMaster 40 Crane (Ø 15-50 cm)

* centrally splitting log diameter

1.090,00
F0001923
Timber support table 140 x 200 cm (L x W)
1.550,00
F0001924
Timber support table incl. extension, 190 x 200 cm (L x W)
2.580,00
Z1930070
Universal shaft
540,00