SchälProfi
The professional machine for pointing and debarking.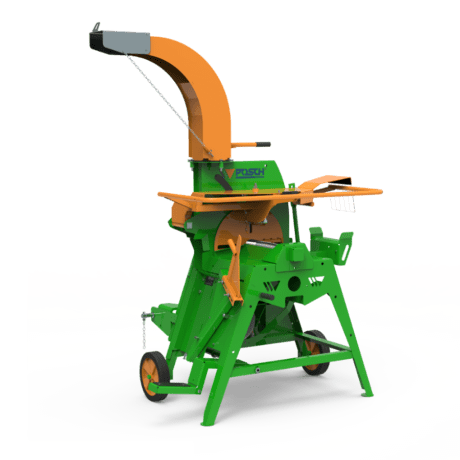 The
SchälProfi
from
POSCH
enables
debarking
and pointing in one work step. With the
debarking machine for professionals
, the log only has to be placed on the
feeding device
, and the
debarking process is started automatically
then. With the
infinitely adjustable feed
, you can easily adjust the surface quality and so get your desired result more quickly. The
gripping device
, the
built-in ejector fan
for discharging the chips produced and the optional
guide for logs
that are more than 3 metres long make debarking as easy as possible.
4 – 20cm or 7 – 24cm log diameter
Debarking disks Ø 50cm
7 to 9 running metres per minute average debarking capacity with a log diameter of 10 – 15cm
4 tempered and sharpened debarking knives, can be resharpened
Pivoting stop of the pointing device
Chamfering device for chamfering the logs
Steplessly adjustable feed
Built-in ejector fan for discharging the chips produced
Mobile on two solid rubber wheels Ø 30cm
Handy accessory equipment for more power and convenience for wood processing.
ersatzteile
Article no.
Description
list price
excl. VAT
F0001584
Support table to cover the auger making sure particularly crooked logs can be turned manually (e.g. acacia)
180,00
F0001566
Discharge extension 35 cm
85,00
F0001567
Discharge extension 50 cm
100,00
F0001360
Three-point linkage for the transportation of machines with E-drive
310,00
Z1201700
Spare knife (1 pc.) for debarking disk (4 pcs. required!)
36,00
F0001435
Set of knives, complete (1 set = 4 pcs.)
135,00
Z2000653
Walterscheid W-Line universal shaft
280,00
F0001339
Timber support for easy handling of long logs (over 3 m) with tilting mechanism (for E- and ZE-drive)
270,00
F0001574
Timber support for easy handling of long logs (over 3 m) with tilting mechanism (for Z-drive)
270,00
A112
Re-sharpening of one set of knives (4 pcs.)
55,00
F2007733
Screw Ø 8 x 12 cm, lead 10 mm (gold-silver), for timber Ø smaller than 7 cm
195,00
F2007588
Screw Ø 8 x 12 cm, lead 12 mm (gold-silver), as standard
195,00
F0001806
Hour counter for machines with PTO drive, includes rpm display
330,00
Valid for initial equipment, incl. assembly.
standardprogramm
Article no.
Description
list price
excl. VAT
F0001468
Log saw attachment for log diameter max. 17 cm, comprising: WIDIA log saw blade Ø 50 cm, supporting table, longitudinal stop, swivel-type centring flap und safety tunnel. Attention! Not available within the EU.
1.950,00
F0001468NA
Log saw attachment for timber Ø max. 17 cm, comprising: WIDIA log saw blade Ø 50 cm, supporting table, longitudinal stop, swivel-type centring flap and safety tunnel. Only available for USA and Canada. See Appendix B for details.
1.950,00
Log saw attachment