PackFix Hydro Mobile
Packing up billets at maximum speed.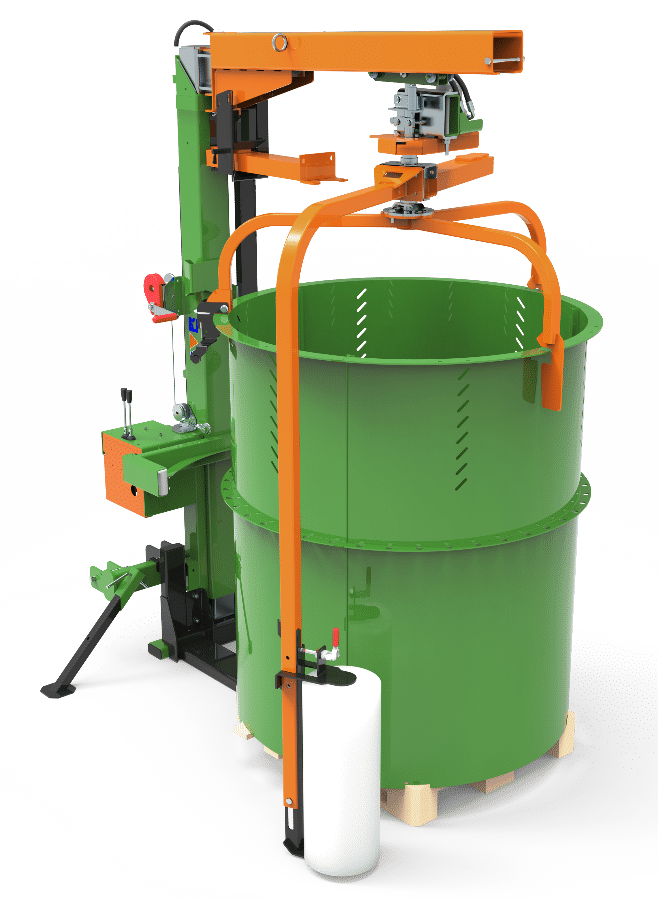 With the
PackFix
, the
short billets
are collected in the drum and wrapped up in an air-permeable mesh for
optimum drying
. In the first step, the mesh is fixed to the pallet and the
filling drum
with a diameter of 120 cm and a height of 145 cm is ready for filling. The
swivel arm
is lifted, lowered and rotated hydraulically and can easily be controlled by means of the
control unit
.
For billet lengths up to 50 cm
Stationary operation, with adjustable undercarriage
Mobile operation, transportation possible with three-point hitch
Charging via tractor, front loader, forklift truck, compact loader, etc.
Filling drum volume: 1.63 m3 = 1.6 loose cubic metres = 1.0 cubic metres of timber
Filling drum: Ø 120 cm, height 145 cm with quick-change system
Make your work routine easier with a series of useful additional pieces of equipment.
spezialprogramm
Article no.
Description
list price
excl. VAT
GH


(SO1159)

Floor frame for charging with pallet truck instead of standard base frame. Level ground required
210,00
UR


(SO1071)

Adjustable base frame instead of standard pallet fork. Level ground required
210,00
Handy accessory equipment for more power and convenience for wood processing.
standardprogramm
Article no.
Description
list price
excl. VAT
F0002880

Floor frame for charging with pallet truck (= standard article GH)
920,00
F0002579

Additional filling drum for PackFix with quick-change system 1.6 loose m³
660,00
F0002659

Additional filling drum for PackFix with quick-change system 2 loose m³, higher than standard drum by 30 cm (can only be used with option X)
910,00
Z9900500

Round bale net 0.6 m x 1.800 m (for 55 to 60 units) 1 round bale net is supplied with the machine as standard
85,00
Z9900501

Round bale net 0.6 m x 1.800 m, 1 pallet = 64 reels
4.710,00