LogFix XL
The powerful firewood screen for large volumes of wood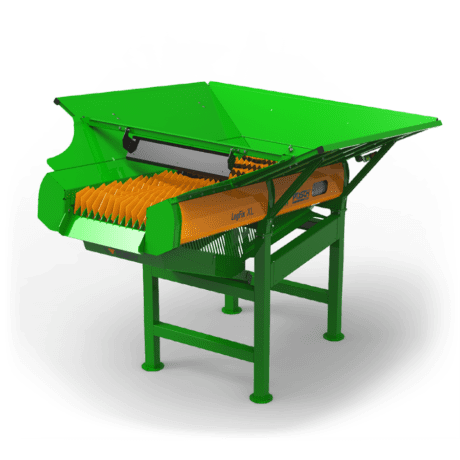 The
LogFix XL
separates billets from splinters and delivers
high-quality firewood
in next to no time.
15 rotating rollers
remove unwanted
wood chips, bark and splinters
from the firewood and drop them. The
filling hopper
of the cleaning device stores larger volumes of firewood and enables controlled feeding. As the rollers rotate with only
93 revolutions per minute
, the LogFix is very quiet. An optional installation frame with
comb teeth
additionally improves the cleaning effect. Under the screen, there is a
hopper
which passes the scrap wood on to an optional
conveyor belt
or a container. With the
radio remote control
, the screen can easily be turned on and off from any operator position.
Screen width 3.8 cm, optionally adjustable 3–4,5 cm
15 rotating rollers
Roller speed 93 U/min
Waste funnel as standard
Conveyor belt width max. 65 cm
Cleaning performance max. 60 srm/h
spezialprogramm
Article no.
Type
Propulsion
Weight
kg
list price
excl. VAT
M8057

PS


Tractor hydraulics, size 2 hydraulic sleeve for forward and return movement required. Compl. with connection tubes and hydraulic plug. Non-pressurised return movement required! Max. delivery rate of pump 20 l/min - 180 bar
2500
19.000,00
M8055RC

E3-400


3x 400V, 50Hz

3 kW e-motor 400V, S6, CEE 16A, incl. wirless and batteryles radio remote control

E-drive: with motor circuit breaker and phase inverter

2730
19.500,00
M8055NE1

E2.2-460


3x 460V, 60Hz

2.2 kW e-motor 460V/60Hz. Only suitable for USA/CAN! See Appendix B for details.

The machine will be offered with 3x460V/60Hz-drive, CSA-certified e-motor by Wattdrive/WEG and switch with UL- or CSA-certified components for field evaluation by the customer in USA or Special Inspection in Canada.

2530
–
Make your work routine easier with a series of useful additional pieces of equipment.
spezialprogramm
Article no.
Description
list price
excl. VAT
V


(SO1189)

Screen width of the first 10 screen rollers steplessly adjustable 3-4.5 cm. Time required approx. 20 min. Factory setting for the screen width: 30mm
2.100,00
Handy accessory equipment for more power and convenience for wood processing.
standardprogramm
Article no.
Description
list price
excl. VAT
F0004071

Installation frame with comb teeth (18 pieces), for an optimum cleaning result individually removable
1.950,00
F0004033

Conveyor belt chute for transfer height 100 cm, max. output 15-20 loose m3/h
1.170,00
Installation frame with comb teeth