Binding agent spreader mounted on articulated dumper: ELH15/17
MOUNTED ON YOUR ARTICULATED DUMPER, THE SPREADERS BINDERS ELH PROVIDE HIGH PRECISION AND HIGH CAPACITY OF SPREADING SINCE OVER 20 YEARS.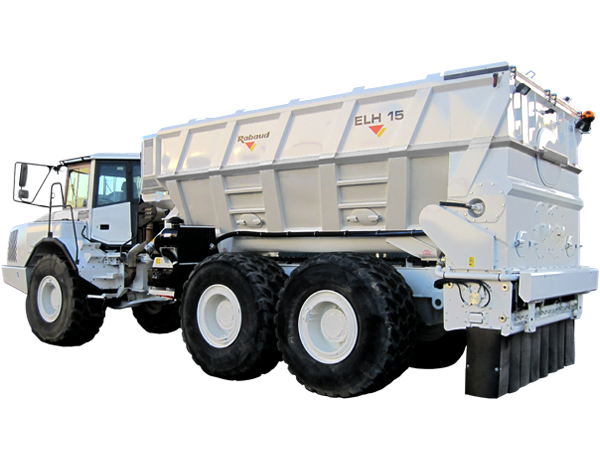 Tank volume: 15 and 17 m³
Spreader mounted on your articulated dump.
Possibility to mount a thermal auxiliary engine 100 HP to have a autonomous spreading to report the progress of the truck. The auxiliary power unit is placed vertically in front of the tank for protection.
Binder fed into the tank by two worm screws Ø 460 mm. Rabaud technologie since 25 years.
Variable spreading width: 0.62cm to 2.48 m with 15 different spreading combinations.
Stainless cellular rotor Ø 495 mm Patented.
Spreading from 3 to 60 kg/m² proportional to speed of forward.
High spreading precision : longitudinal coefficient of variation <5% and <3.5% in 90% of treatments..
ELH 15/ 17 is the only spreader to be tested and certified by independent laboratory of administration to its accuracy spreading
Spreading slave with the forward speed with O-CONTROL electronic system series: Management honeycomb rotor electronic looping.
Anti-dust system during tank feeling.
Listening to your specific needs, our design office study adaptation of spreader depending on your choice of carrier.
Type

Binding agent Spreader:
ELH 15
mounted on articulated dumper

Binding agent Spreader:
ELH 17
mounted on articulated dumper

Tank capacity

15 m³

17 m³

Spreading width

Variable from 0.62 up to 2.48 m
with 15 different spreading combinations

Variable from 0.62 up to 2.48 m
with 15 different spreading combinations

Diameter of cellular rotor

Ø 495 mm Stainless cellular rotor (PATENTED)

Ø 495 mm Stainless cellular rotor (PATENTED)

Transverse distribution in Hopper

4 capacitive probes
with 2 equalizing screws and 1 "hedgehog"screw agitator "hedgehog"

4 capacitive probes
with 2 equalizing screws and 1 "hedgehog"screw agitator "hedgehog"

Spreading gestion

O-CONTROL electronic system series

O-CONTROL electronic system series

Tank dimensions (L x W x H)

6185 x 2545 x 2640 mm

6830 x 2545 x 2640 mm

Tank weight

6940 Kg

7110 Kg

Hydraulic auxiliary

Engine "Perkins" série 1100 – 74,5 kW (100 HP)

Engine "Perkins" série 1100 – 74,5 kW (100 HP)